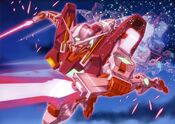 "Exia has located the target, have concluded Briar Evergreen is guilty of promoting conflict, commencing armed intervention. Exia, will eliminate targets"
This article, Briar Evergreen, has been nominated for deletion, and the Administrators are currently considering its deletion. The reason given was:
Update
. If you disagree with this, state your reasoning on the talk page.
Briar Evergreen
Biographical Information
Place of Birth

Diggen's Rock

Family

Father
Mother
Sister


Date of Birth

August 8 02AF

Age

19

Status

Active

Physical Description
Aliases

Natural Ninja
Information Assassin
Pragmatic Predator
The Leeroy (Allies)


Blood Type

B+

Gender

Male

Genetic Type

Human

Height

1.72 Meters (5'9)

Hair

Black

Eyes

Amber

Pilot Data
Primary Archetype
Secondary Archetype
Pilot Stats

Intelligence: 20
Body: 15
Engineering: 7
Tactics: 15

MS Specialities

Close Range: 22
Beam Weapon: 17
Conventional: 18
Speed: 32
Defense: 17
Tech: 22

Affiliation Information
Occupation

Mobile Suit Pilot

Mobile Suits

Hound

Affiliation

Earth Reclamation Alliance

Nation of Affiliation

North America

City of Affiliation

Diggen's Rock

  [Source]
Appearance
A young, slim man of lean build. Flat, dark hair with bangs, pale skin, striking amber eyes. Typically wears a white one-piece combat suit, along with a black vest, black combat gloves and shoes, and a belt.
Personality
A loner and prefers avoiding working with others, usually engaging in combat and missions on his own unless otherwise is absolutely necessary. Difficult to get along with, often throwing around snarky or sarcastic comments. Very tactical and ruthless, willing to take any means necessary to achieve a victory, even if it involves cheap tricks or deception. Above all very driven to defeat the UE, unwilling to step down until a mission has been completed and all enemies in the area defeated and destroyed.
Strengths
Intelligent
Pragmatic
Driven
Weaknesses
Smartass
Stubborn
Prefers entering combat/missions alone
History
Born one year after the fall to a family with contacts and riches, Briar was able to live a relatively normal life, albeit distant from his army-life father, and his mother deceased. When the UE attacked, Briar's father threw himself into the resistance, while his sister followed in a vain attempt to get their father's notice and approval. Seeing the destruction caused, Briar refused to let his sister die in a war his father was helping to wage, and resolved to fight the UE himself, bringing down as many as he could to end the war before his sister became part of the tragedy.
Relationships
Diggen's Rock
Team Strike
Wolf Knights